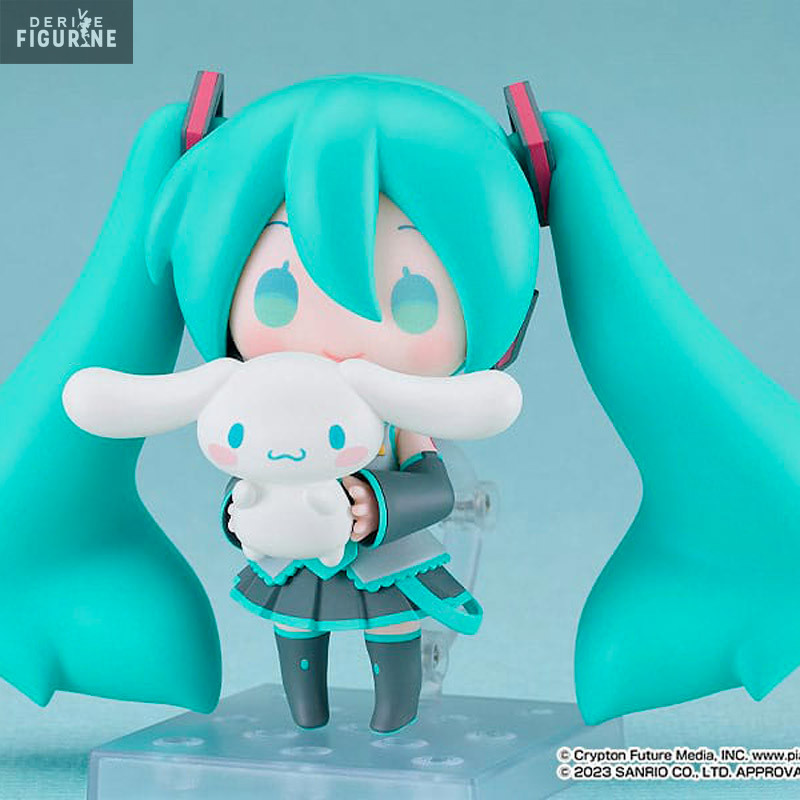  
Pre-order
Pre-order ends on 19 January 2024
PRE ORDER - Vocaloid - Hatsune Miku x Cinnamoroll Collaboration figure, Nendoroid
Reference : GSC17763
Official figure of Hatsune Miku in PVC which measures approximately 10 centimeters high. It is from the Nendoroid collection. The manufacturer is Good Smile Company.
Release date: estimated arrival date in stock to August 2024.
Plongez dans un monde enchanteur avec la collaboration entre Hatsune Miku et Cinnamoroll grâce à la figurine Nendoroid. Cette adorable création fusionne le charme vocal de Hatsune Miku avec l'adorabilité emblématique de Cinnamoroll, offrant une pièce unique à tout collectionneur de figurines. La figurine met en scène Hatsune Miku dans une tenue spécialement conçue avec des éléments distinctifs de Cinnamoroll, créant une fusion captivante entre ces deux univers appréciés. Les détails soigneusement reproduits, tels que les couleurs douces et les accessoires uniques, ajoutent une touche magique à cette collaboration spéciale. Ne manquez pas la petite figurine bonus de Cinnamoroll, qui ajoute une adorable dimension à cet ensemble. La Nendoroid offre une grande articulation et une variété d'expressions interchangeables, permettant aux fans de personnaliser les poses et de capturer l'esprit ludique de cette collaboration exceptionnelle. Cette figurine est également compatible avec d'autres figurines Nendoroid, offrant ainsi d'innombrables possibilités pour créer des scènes uniques et originales. Ajoutez la figurine Hatsune Miku x Cinnamoroll Nendoroid à votre collection pour célébrer cette collaboration unique, mêlant la renommée de Vocaloid à l'adorable univers de Sanrio. Parfaite pour les amateurs de Hatsune Miku, de Cinnamoroll et de figurines Nendoroid.